Masters 2012
Dan Joyce, April 2012

Note: All photos included have been borrowed from somewhere on the web. Cameras are not allowed at Augusta of course.

We had beautiful weather both Saturday and Sunday. Wee bit nippy first thing in the morning warming to mid 80's and sunny. Because of the early spring the famous flowers had already come and gone but no worries, the place was still beautiful. I will probably never look at a golf course the same way again as I did before. I have a new standard for comparison.

Many thanks to my friend Albert for providing the tickets and my friend Willo for providing good company.
Saturday
Arrived with Willo at about 9 AM.
Gates had opened at 8 AM.
First tee time was 9:15 AM.

Traffic wasn't bad. Looooonnngggg hike from parking lot to gate. We went in the back gate which brings you in behind the 5th green on the south side of the course.

Metal detectors. Lots of workers dressed in green, all very pleasant and welcoming.

We are given a handy spectator guide which easily slides into a front or back pocket. It includes a great map of the course (see below), hole by hole descriptions, some history, player bios and more. The stars on the map indicate good viewing points. I think they were picked by Bobby Jones. Seriously. I bet I pulled this booklet out 100 times during the day. Also, readily available all around the course, is a one page sheet containing the days pairings and tee times on one side, and another copy of the handy map on the other ... plus a few paragraphs labeled "Conduct, Customs and Etiquette". I think they heard Willo was coming.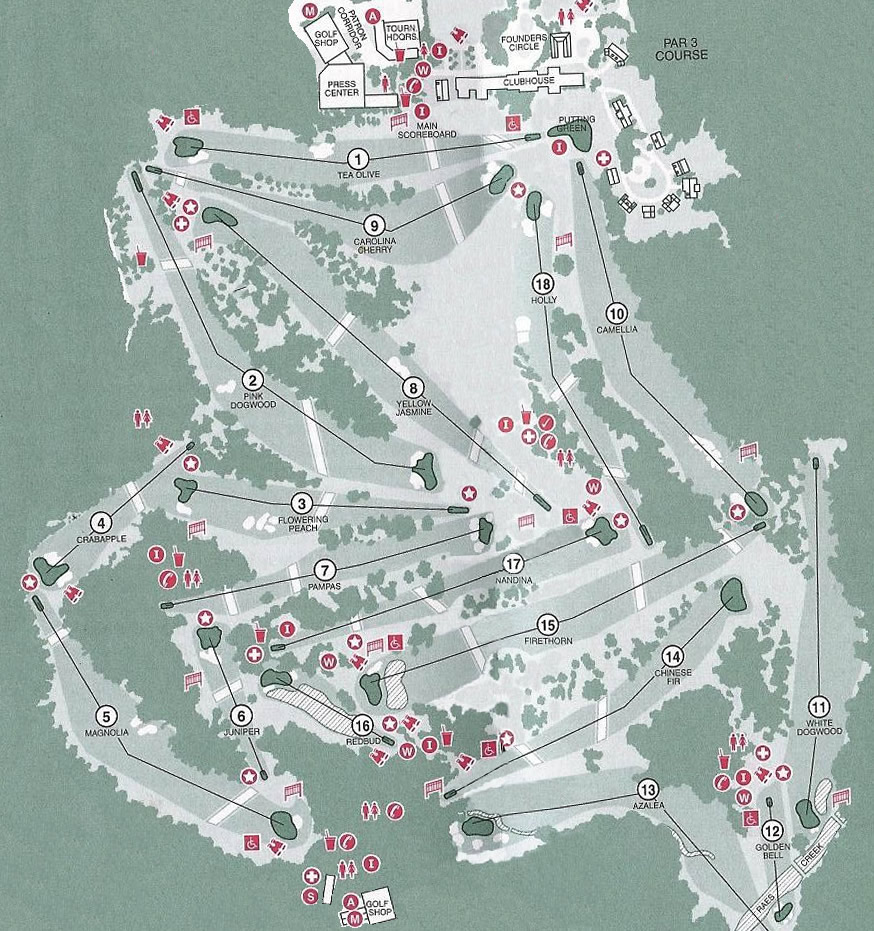 First thing we did was stop at the store to buy our chairs. Many people have these chairs. Cost $30. You can bring folding chairs in with you but they must meet Augusta's specifications, for example no arms on the chairs, and essentially all the chairs we saw on the course were official chairs. Store was crowded but with tons of well organized registers the wait in line was literally seconds. The lady at the register asked where I was from and chatted about my visit as if I was family. The friendly attitude of the people working at the event would continue unabated through Sunday.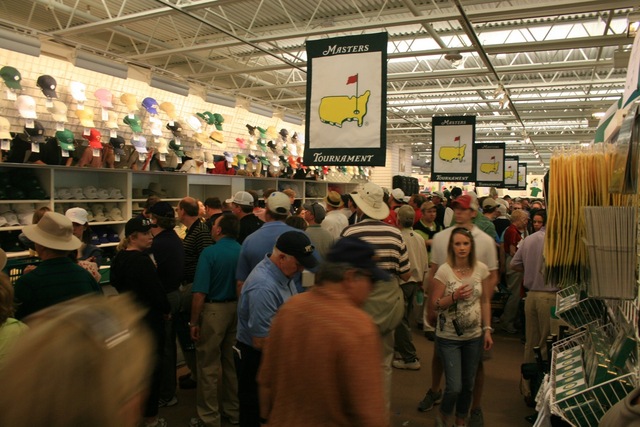 You place your name in a card on the back of your chair (see first photo below) and place it at a preferred viewing spot. You can then leave and return at any time during the day and claim your chair. It will be there, undisturbed. The prime spots are quickly filled in the morning with chairs. As I understand it, the fans first thing in the morning have to be carefully controlled so they aren't running all over the place .. it just wouldn't be proper. In second photo below you can see chairs by the 16th green. There are of course also grandstands at certain strategic locations, as you can see in the background of the photo.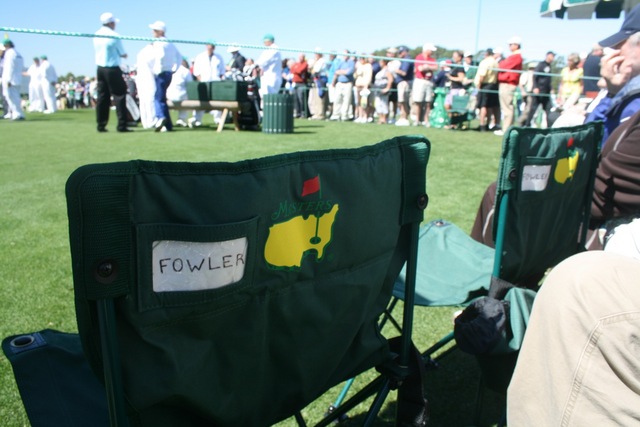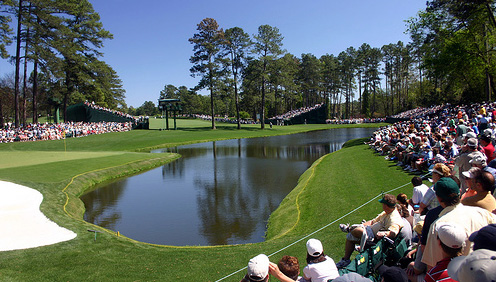 We walk through a grove of trees, up a hill and finally emerge on the course itself. Helpful signs and helpful people in green jackets keep us pointed in the right direction. I want to plop our chairs down almost immediately because we have a beautiful view of the 13th green with easy access to refreshment tent and restrooms and nothing could possibly be better than this because it was so gorgeous, right? Wrong. Thankfully Willo convinced me we should stick to our original plan, which is to head to Amen Corner.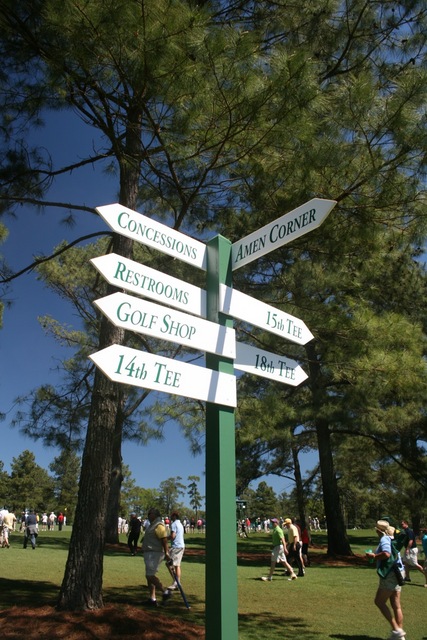 Amen Corner consists of the 11th green, the par 3 12th, and the tee for the par 5 13th. It is so nice. Green chairs already fill the allocated area but new rows of them have started just behind there and we choose a nice spot where we can see the action on the 11th green yet are right behind the 12th tee and can watch the tee shots. There are grandstands back behind us but with our chairs we are much closer to the action and more comfortable. Of course, the first set of golfers is still about 9 holes away at this point. In the overhead pic below our chairs would be about where the capital S in the "Tee Shot on 12" phrase sits.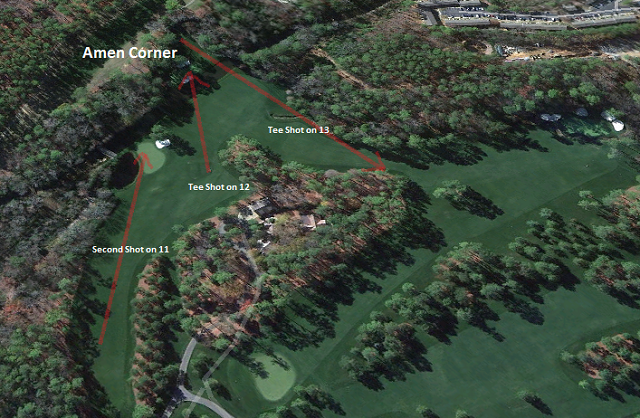 Willo decides to rest his ankle which is swollen and I decide to roam. We will meet at the chairs. We probably should have been a little more careful with our plans -- maybe we are so used to using cell phones to coordinate that we forgot .. no phones allowed of course. It will be 2 hours before we see each other again. I wander around and see most of the southern half of the course close up. Holes 3, 4, 5, 6, 7, and 11, 12, 13, 14, 15, and 17. Willo also manages to roam around a great deal of the course while we are separated. There are lots of fairway crossovers which are wide open on the back nine since the golfers haven't arrived at these holes yet. On the front nine I have to wait to be allowed to cross. It is nice to stop in the middle of a crossover and look up and down the hole. Imagine playing it. Hell, I could par this hole. With a fairway like that can't help to hit great shots. Sure. Every hole is gorgeous. I won't keep saying that but it is true.
At one point I end up a little in front and right of the 3rd green which turns out to be a great spot. Can see the 3rd green plus can see the golfers tee off on number 4, a par 3 ... can follow that tee shot all the way to the green and even from the distance of about 180 yards tell how they do there. I stayed there for about an hour since I had a good standing spot and got to see some of my fantasy league golfers play through, plus Tiger. It did get crowded when he played through and he birdied both 3 and 4 creating a little buzz. But he didn't do much after that. I also saw Luke Donald eagle the hole from about 120 yards out. Fun. By the way, two of my fantasy players each of whom I had just picked up with a waiver pick the week before, Peter Hanson and Henrik Stenson, made a lot of noise during the weekend, at times grabbing the lead. That was fun too.
Back to Amen Corner - by now there are golfers playing through there. Can't find my chair. Ha, so stupid. Hundreds of more chairs have been placed since I left which completely changed the layout, the look of things. Tried for a good 20 minutes to find it or Willo, no success. Stood at the back of the crowd and watched two groups play through and then Willo appeared behind me. He sorta remembered that we were near some handicapped roped off area and sure enough, with that tip we manage to find our chairs working together in only 10 more minutes. Whew. Below is very similar to our view of the players teeing off on 12. That is the famous Ben Hogan bridge on the left. The pin I believe was much more to the right on Saturday. The 11th green is just to the left of the tee, not shown in the picture although you can see the edge of a greenside bunker. It was hard to follow the tee shots on 12 all the way to the green, because of the sky and the light and the shadows. But still a great seat and easy to watch the putting on 11.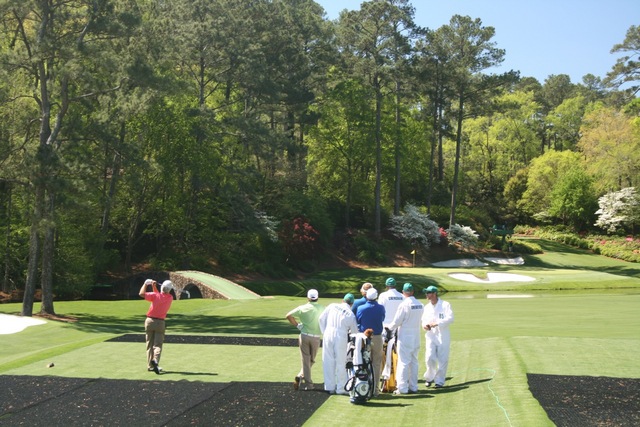 I head for refreshment tent. I grab two bottles of water, two beers (I'd say about 12 ozs in strong plastic "souvenir" cups .. you would see people leaving at the end of the day with dozens of these cups), two of the famous cheese and pimento sandwiches, and a pack of peanuts and a pack of crackers ... total cost for those eight items is $13. Wow. Somewhat long line but it moved so fast whole trip only took ten minutes. The refreshment tent was a well designed assembly line with tons of friendly workers. By the way, the rest room line moved incredibly quickly also, as there are several attendants inside providing helpful tips such as "two open down on the far left" and "shaking it twice is plenty enough gentlemen, let's keep it moving."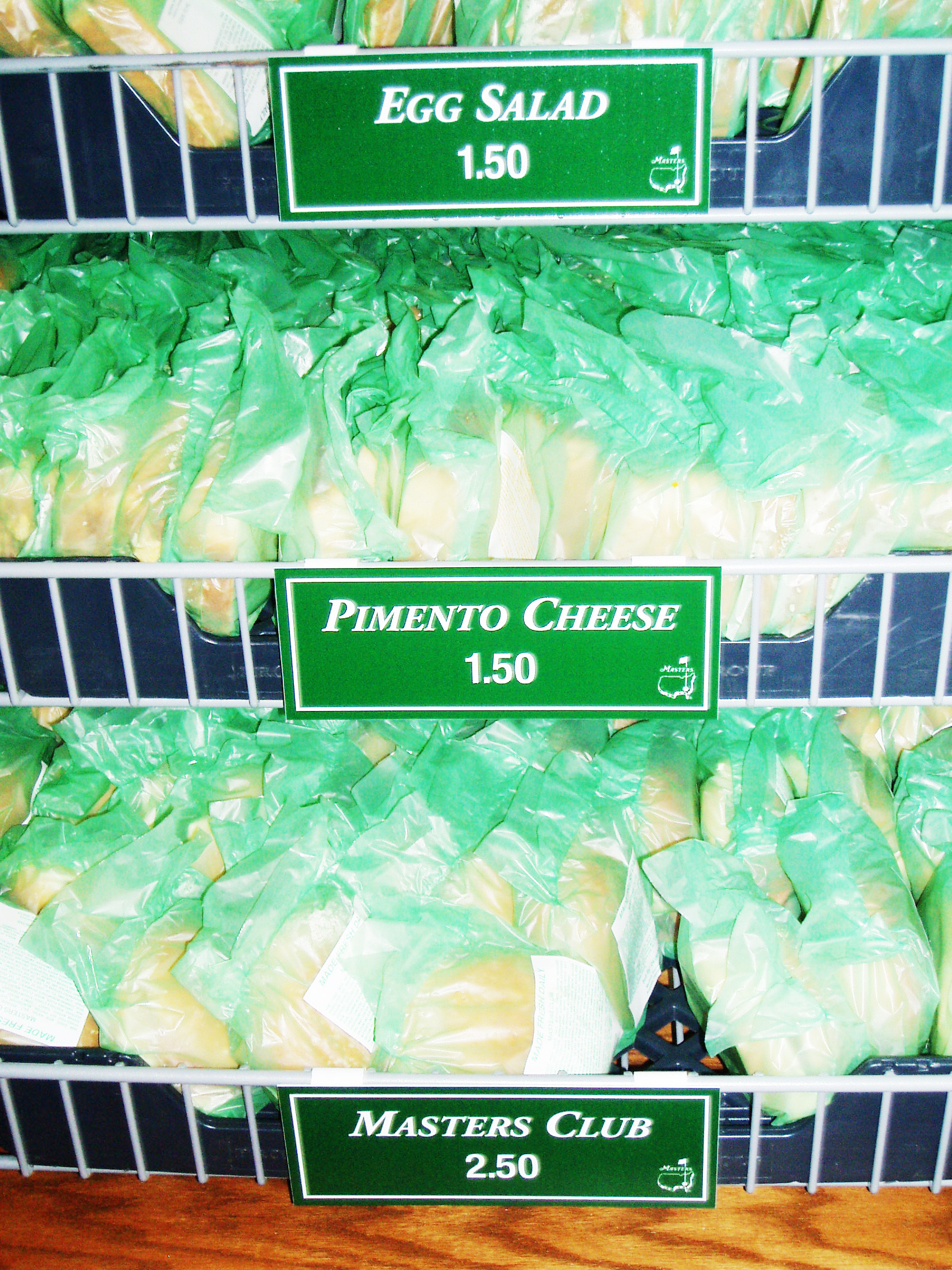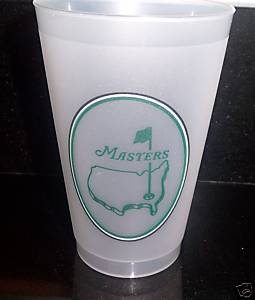 Note the green wrappers on the sandwiches .. that's so in case the wrapper blows away it won't show up on TV, it will blend in. But not much chance of them blowing away with all the custodial staff around. For more about the food and the fast lines see the following: Eating Your Way Around Paradise at the Masters Tournament.
By the time I get back to the seats Willo has made friends with those sitting around us. This seems to happen easily when sitting in the clusters of little green chairs as we consistently make friends in those situations. We chat, eat, drink, and watch several pairs of golfers play Amen Corner.
I am antsy so we plan to meet back at the chairs when the leaders come through (at this point the last several groups have not yet teed off number 1) and I head off again. Walking quickly as I can, I head to the clubhouse all the way on the other side of the course. I stop near the record fountain beside the 17th green which might be the coolest place on the course with good views of four fairways (8, 2, 3, and 7). I visit the putting green near the clubhouse and stand four yards away from Rory McElroy as he practices putting. Walking around to the back of the clubhouse I can see the famous par 3 course on my right .. looks just as well taken care of as the regular course. Behind the clubhouse is the only slow line at Augusta .. a line to have your photo taken holding the pin in the flower bed shown below. Although this is free it is not worth the wait. Before leaving the clubhouse area I check out the large scoreboard nearby which shows everyone's uptodate status. Completely non-electronic!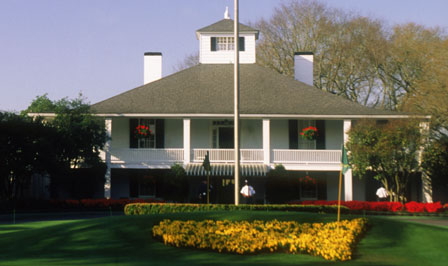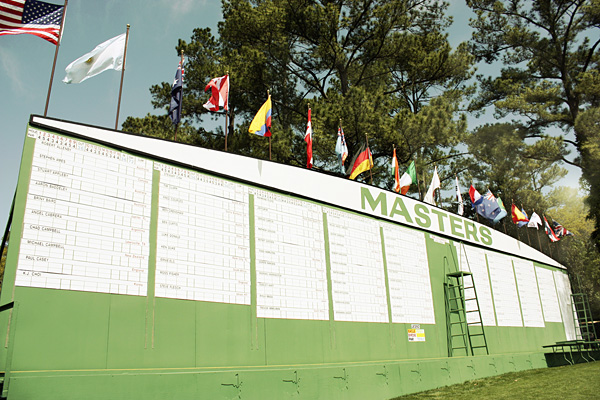 Back to the chairs at Amen Corner where we settle down with the folks around us, drink beer, and watch the last half of the field play through. There is a big scoreboard (manual of course) just behind the 11th green so we can follow the progress of the top 12 golfers plus a few other notables. The last pair of the day to come through, and the leaders when the day began, is the popular Freddy Couples who gets a big round of applause whenever he does anything, and Jason Dufner, a member of Willo's fantasy team, whom everybody pretty much ignores. Neither is doing well today. Willo had correctly predicted that morning that Dufner would fade and calls him Jason Doofus to anyone who will listen. After the leaders are through everyone picks up and begins to leave. We say goodbye to our comrades. And we just sit there. It is getting cooler. I would guess it was around 5:30. It is so nice, pretty, quiet, I am content to just sit and watch the scoreboard change. Problem with this plan is they begin taking down everything on the scoreboard. Oh well, time to move.
We head to the grandstand at 16, a par three which is mostly water. We sit there comfortably and watch the leaders come through again. Too bad we weren't here the next day because there were two hole in ones in a short period of time but nevertheless, we did see some nice shots and was a good way to end our day.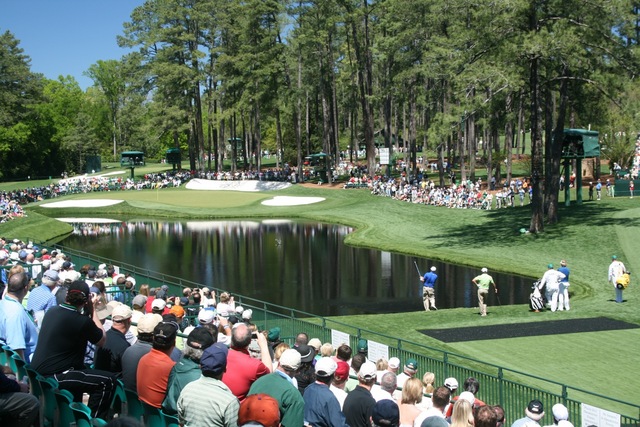 After the leaders left 16 we head out, with a quick stop at the store and then a short 30 minute search for the car. Two ND grads, one science, one engineering and we can't find the car. Sheesh. We finally stumble onto it and then drive back to Thomson, about 30 minutes west of Augusta and after some searching manage to find Hogie Joe's, a perfect sports bar to end a perfect day.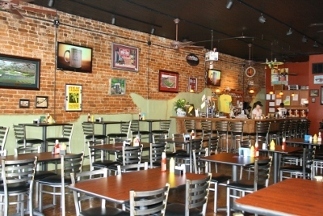 Willo snores!
Sunday
Arrived with Willo at about 8 AM.
Gates had opened shortly before that.
First tee time was 9:15 AM.

Today's account will be shorter cause I'm starting to bore myself. We go in the front gate today and I head off with our chairs to set them up. Willo takes a look around the clubhouse, putting green etc. I set our chairs near the spot on number 3 that I stood at the day before, but much closer to the green thanks to getting there so early (see red X below). Before long Willo shows up and we sit and watch the entire field play through. Sat there for about 7 hours. Talked. Ate. Met people. Drank. Although beer sales on Sunday don't start until 12:30 pm .. story we heard was there is a nearby church and that is when their last service lets out. It was hilarious at 12:30 cause we could see a main refreshment tent across the fairway and down the hill get mobbed!!

Third hole isn't famous or anything but its interesting. Short par 4. Some players laid back so they could hit a full shot to green. Others such as eventual winner Bubba Watson and the frustrated Tiger Woods just blast away and are left with short chips. In those latter cases they are standing relatively close to us as they chip. Several players ended up in the fairway bunkers about 100 yards out. Thirty percent of those came up short of the green with their second shot. Besides watching the third green approach shots and putts, we could also watch tees shots on the uphill par 3 number four. Was very cool if standing right behind the tee.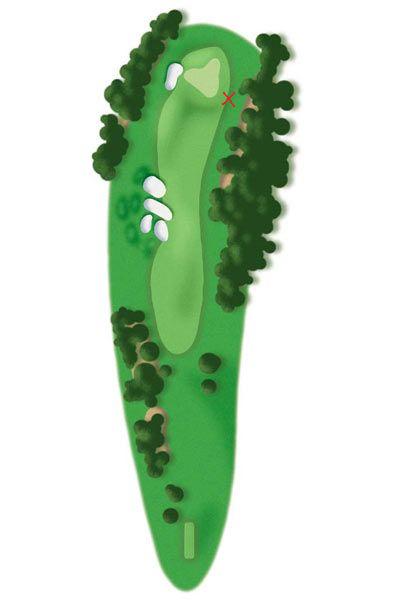 Our location was great. The nearby leader board gives us updates. There was an uncrowded rest room and refreshment tent back behind us in the trees. We make friends again and it is amazing how quickly the crowd works together to figure out what the roar in the distance is .. someone aced 16 .. yup .. someone aced 16 again .. yup .. oh my god what was that? .. one of the leaders must have eagled number 2; that was too loud for that; bet it was a double eagle; no way; but yes, minutes later it is confirmed and a couple of guys that were out wandering and saw it come back to fill us all in. Only the 4th double eagle in Master's history. For time being you can see it here: Come to Poppa.
After leaders go through and everyone clears out we wander over behind the fairway trap and imagine hitting to the green from there. Then we went back and stood just behind the 3rd tee. Amazing that players could put the ball so close to the right side of the green with their tee shots. Oh, and apparently while we were wandering around 3, Phil Mickelson, who was in the final twosome and who we had just seen putt on number 3, was making triple bogey at 4, and in effect, losing the tournament, which we knew nothing about until later.
We wander around enjoying the sights and settle in the shade in an uncrowded part of the 14th fairway, towards the green (the photo below was taken from about the exact same spot we were sitting). I head off to get beer which takes awhile cause it is a hike to the beer tent plus it is getting close to beer closing time, so line is long. But it does move! Finally make my way back to a thirsty Willo and we enjoy the relative quiet of this part of the course for awhile.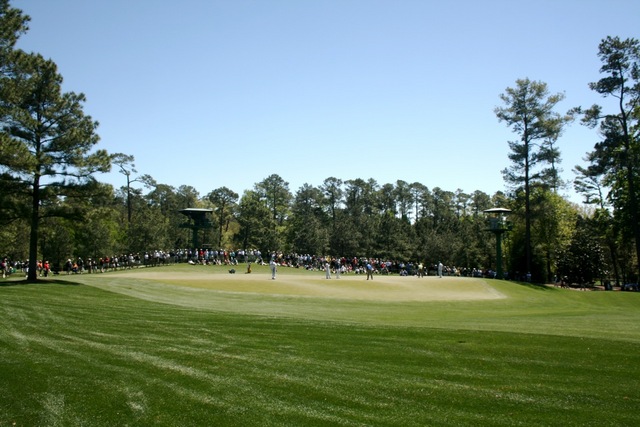 We finish our beers and begin to head towards exit. But first we settle into the grandstands that overlook the 14th tee and the 13th green (the latter part of the Amen Corner holes). And watch the last groups come through. This is great fun as 13 is a reachable but dangerous par 5 (see photo below).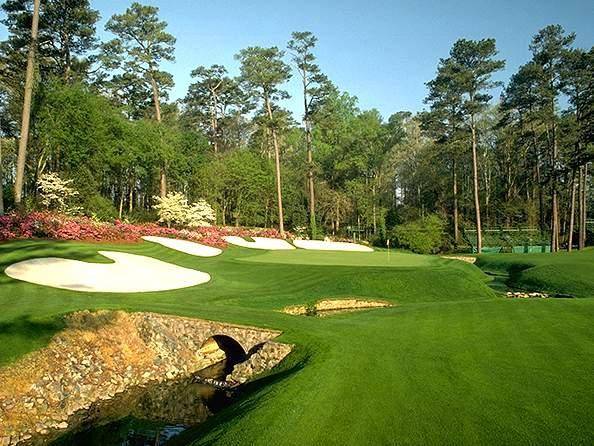 Once the leaders go through we head to the car (after heading to the head of course). We are both tired, I am burnt, and we have a 2.5 hour drive to Atlanta ahead of us. We listen to the last hour of drama in the car, including the extra holes playoff and Bubba Watson's amazing recovery shot on the second overtime hole that essentially sealed the deal. Settling into the Atlanta Airport Marriott is a treat since Willo is some sort of big shot member which gives us extras like access to the royalty room, free internet, and a great morning breakfast.
Augusta National and the Masters
All in all a special place and a great weekend. The course is beautiful, the workers are friendly and helpful, the atmosphere is exciting, the prices are good, no billboards, no commercialism, just a great course, with lots of advantageous viewpoints, and fantastic golf ... if you ever get the chance, just go. It really is a unique experience, a special place, a "tradition like no other".

I could break 100 there I think. Maybe.

On the Par 3 course.

Maybe.